Lovelady ISD Rewarded for Energy Efficiency
Lovelday, Tex., – Lovelady Independent School District received a $23,000 incentive check from their utility company. Oncor's Educational Facilities Program helps organizations minimize the impact of volatile energy costs through energy savings and incentives. The district received the check after installing energy efficient air conditioning and lighting system improvements in their facilities. Lovelady expects to save more than $1.6 million over the next 15 years.
The improvements were possible because of an Energy Savings Performance Contract with Way Companies. The Program will allow the district to pay for the project —without any upfront costs— using the savings generated by increased efficiency. Way guarantees the energy savings and provides long-term energy management and maintenance support so the district continues to benefit for years to come.
For the Superintendent, Way's Performance Contract was justifiable. "It will just make good fiscal sense to participate in programs that helps us save energy and then reward us for our efforts," said Superintendent Dr. Micah Dyer.
Lovelady ISD's improvements will save more than 303,313 kilowatt-hours of energy annually, equal to the carbon dioxide emissions from nearly 23,447 gallons of gasoline, according to U.S. Environmental Protection Agency calculations. In addition, the new lighting has significantly improved the learning environment for Lovelady students by creating comfortable and cleaner facilities.
As a result of the current economic climate the savings were welcomed by the district. "School districts in Texas are aggressively pursuing every dollar we can find to ensure we meet the needs of our students," said Dr. Dyer.
Charles Hill, Oncor's Regional Manager lauded the district. "Their efforts throughout the district have not only resulted in cash incentives being awarded to the district but more importantly, sustainable energy savings that reduce the district's energy bills month after month," said Hill.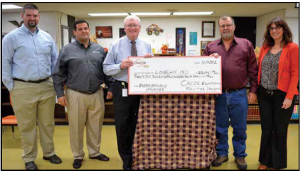 Leave a Reply
You must be logged in to post a comment.