Way Gives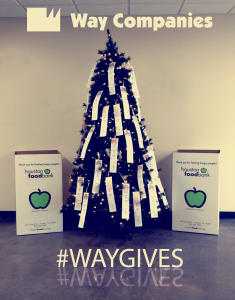 This holiday season Way Companies is partnering with the Houston Food Bank and Salvation Army to help families in need. Food bins benefiting the Houston Food Bank are available to employees for donations. Food drives are vital to helping the Houston Food Bank feed 800,000 each year. Way Companies is proud to encourage all employees to donate and join the fight against hunger.
A Salvation Army Angel Tree has been set up and decorated with 'Angels' from the Houston area.  'Angels' are children or seniors who live below the poverty line. Once an 'Angel' from a Salvation Army Angel Tree display is selected, a Way employee will have the opportunity to sponsor their Christmas. In 2013, more than 25,000 children and seniors in Houston received gifts through Salvation Army's Angel Tree program.
Way Companies is committed to bringing holiday cheer to those in need. As we all sit down with family during the holiday, it's important we also consider the ways we can all pitch in to help those struggling this year. Something as tiny as a can of beans or a pair of socks can brighten the life of someone less fortunate. It's a blessing to lead a life that affords one the luxury of a home-cooked meal or a carefully-wrapped Christmas present. Way Companies invites you to find out how you can help. Visit the Houston Food Bank and Salvation Army websites.
Leave a Reply
You must be logged in to post a comment.