Are my coils dirty?
Coils are one of the many important components that make up your HVAC system, and their cleanliness can dramatically affect the cost of energy. In order to save money—and increase comfort—then consider giving those coils a rinse.
What are Condenser Coils?
Condenser Coils play a crucial role in the cooling process; they transfer heat to the outside from inside your facility. The coils are made to withstand the elements, but they sometimes accumulate dirt and grime. This can cause the coils become less and less energy-efficient.
How do dirty coils affect the system?
As the coils collect more dirt, they begin to work harder to transfer the heat from your facility to the outside. This increases their energy consumption. In other words, they begin to work harder to achieve the same goal. Dirt shortens their useful life, and drives up the energy bill.
The table below shows the cost savings of clean condensers: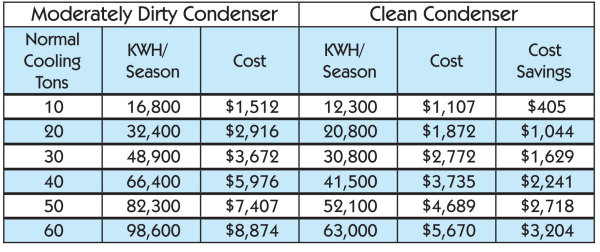 *Information provided by Carrier Corporation – Based on .09/KWH
If you have any questions about a dirty condenser coil, or if you'd like your coils serviced, don't hesitate to contact us.
Tags: Clean, Coils, Dirty, HVAC, Table
Leave a Reply
You must be logged in to post a comment.