POLK COUNTY PARTNERS WITH THE WAY COMPANIES TO UPGRADE INFRASTRUCTURE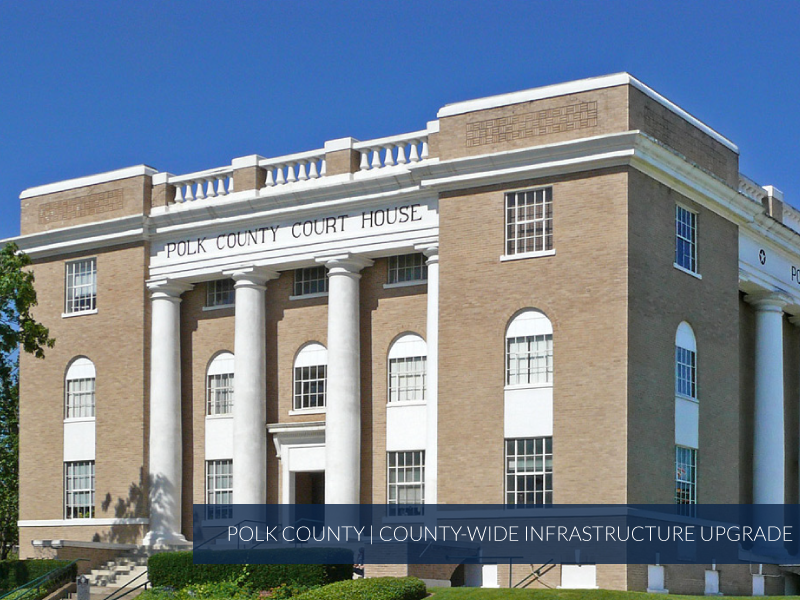 On June 29, 2016 Judge Sydney Murphy of Polk County executed a Professional Services Program with The Way Companies. The Commissioners' Court previously voted unanimously to approve the Infrastructure Reinvestment Program, which will provide much-needed upgrades to the county's HVAC and lighting systems. The county stands to reduce electric consumption by 1,003,153 kilowatt-hours (kWh), which is the equivalent of removing 145 automobiles from the road. The program will also reduce water consumption by more than 2,000 kGal a year and produce a guaranteed annual energy and operational savings equal to the contractual obligations and fees associated with the capital improvements.
The total value of Polk County's existing HVAC, controls & lighting systems is in excess of four million dollars. Fifty percent of the county's infrastructure had reached or exceeded its life expectancy. The age of the equipment has resulted in excessive electricity consumption, as well as uncomfortable buildings and the issues could not be resolved with "Band-Aid" repairs.
The Commissioners Court recognized the County's struggle with the aging infrastructure and deferred maintenance issues. As a result, the Court chose to implement a much more proactive solution. Judge Murphy explained, "In our current economy, we needed a solution that did not negatively impact the budget. This program will allow for $2 million in infrastructure upgrades with the debt obligation guaranteed to be offset by the energy savings and, eventually, should result in an additional positive cash flow."
"We selected The Way Companies because they truly met our needs and objectives," said Judge Murphy about the selection of The Way Companies.
"It was a culmination of a lot of hard work and we applaud this initiative on the part of Polk County executives and staff. We are thrilled to see the county gain improved working environments and reduced budgets," said Kenneth Morris, Capital Generation Executive for The Way Companies.
The implementation of the program is scheduled for completion in December.
Leave a Reply
You must be logged in to post a comment.