The Real Goodwill Tour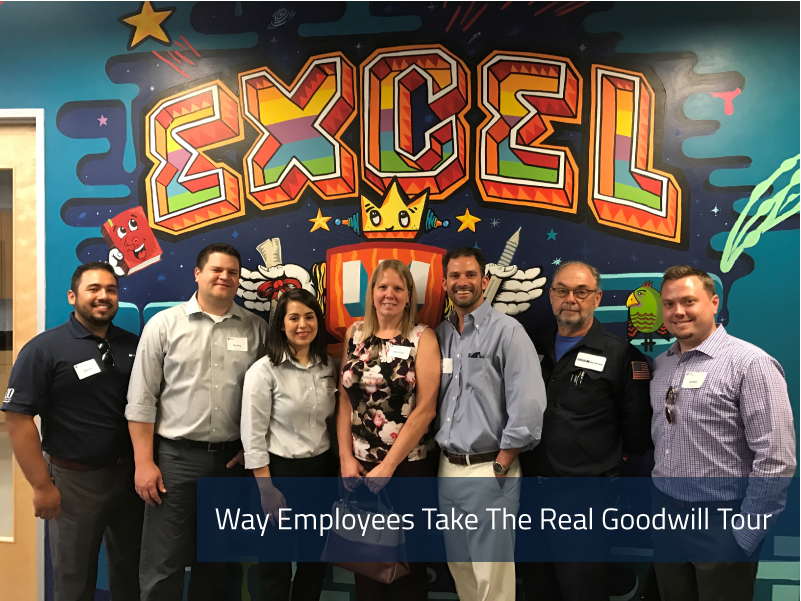 Strengthening our Workforce!
The Goodwill of Central Texas cordially invited colleagues from The Way Companies to "The Real Goodwill Tour" which was located at the Goodwill Community Center (GCC). "The Real Goodwill Tour" gives individuals and companies like ours an exclusive behind-the-scenes glance at the facilities. A few members of The Way Team were educated on all the wonderful operations, services and missions Goodwill provides, including education and job training services. Community members have access to education programs that provide GED and HVAC-related courses! Goodwill funds these initiatives through proprietary monies gained by donations, recycling, staffing, and the resale of donated goods.
The Way Companies plans on partnering with Goodwill's HVAC Career training programs this upcoming fall to teach students about the HVAC industry, The Way Companies, and to recruit new team members through Goodwill's job fairs and other employer engagement opportunities. As a partnership, The Way Companies and Goodwill plan to educate our clients and strengthen the workforce. The Way Companies believe that collaborating will increase our positive impact on the community and provide trained employees through the Goodwill Career & Technical Academy. This all aligns with Goodwill's mission, which is to Generate Lifelong Connections to WORK.
According to their website, the Goodwill of Central Texas is a private, non-profit, 501(c)3 organization established in Austin, Texas in 1958 and has become a multi-dimensional non-profit deeply entwined with business and job growth, the environment, and the overall spirit of Central Texas. Learn directly about The Real Goodwill Tour at their website HERE.
Tags: Austin, Goodwill, Houston, HVAC, Non-profit, Way, Way Culture
Leave a Reply
You must be logged in to post a comment.