Archive for the 'Blog' Category
Cumulus is the Way Companies' cloud-based facility management tool designed to simplify on-site and remote management of building assets and operational expenditures. Cumulus is efficient and effective in reducing time and costs and the success of Cumulus has led us to look into ways to make it superior. We've invested in growing Cumulus and we're proud to announce the launch of the Way Energy Dashboard. The dashboard makes it easier to predict energy usage and helps tie energy expense to building performance. Way interprets the data from the dashboard and identifies issues or opportunities that exist in your facility.



At The Way Companies, we combine utility analytics with years of experience and expertise to solve complex building challenges. The Way Dashboard monitors buildings and delivers meaningful business insights on the overall efficiency of a building facility. Way staff crunches the data and formulates strategies that will optimize a building's energy performance deliver greater ROI.
The Way Companies' Energy Dashboard is a frictionless utility tracking and benchmarking service that gives you objective, actionable data to help you better understand your facility. Pairing the use of the Dashboard with Cumulus can show an immediate reduction in operating cost. For example, implementing a Proactive Maintenance Program for your mechanical assets on your facility can extend equipment life, protect your assets and generate energy savings. Reducing your energy bill and protecting your investments are benefits of proper proactive maintenance and the Way Dashboard allows you to see the results. Let our team help identify opportunities for your facility today!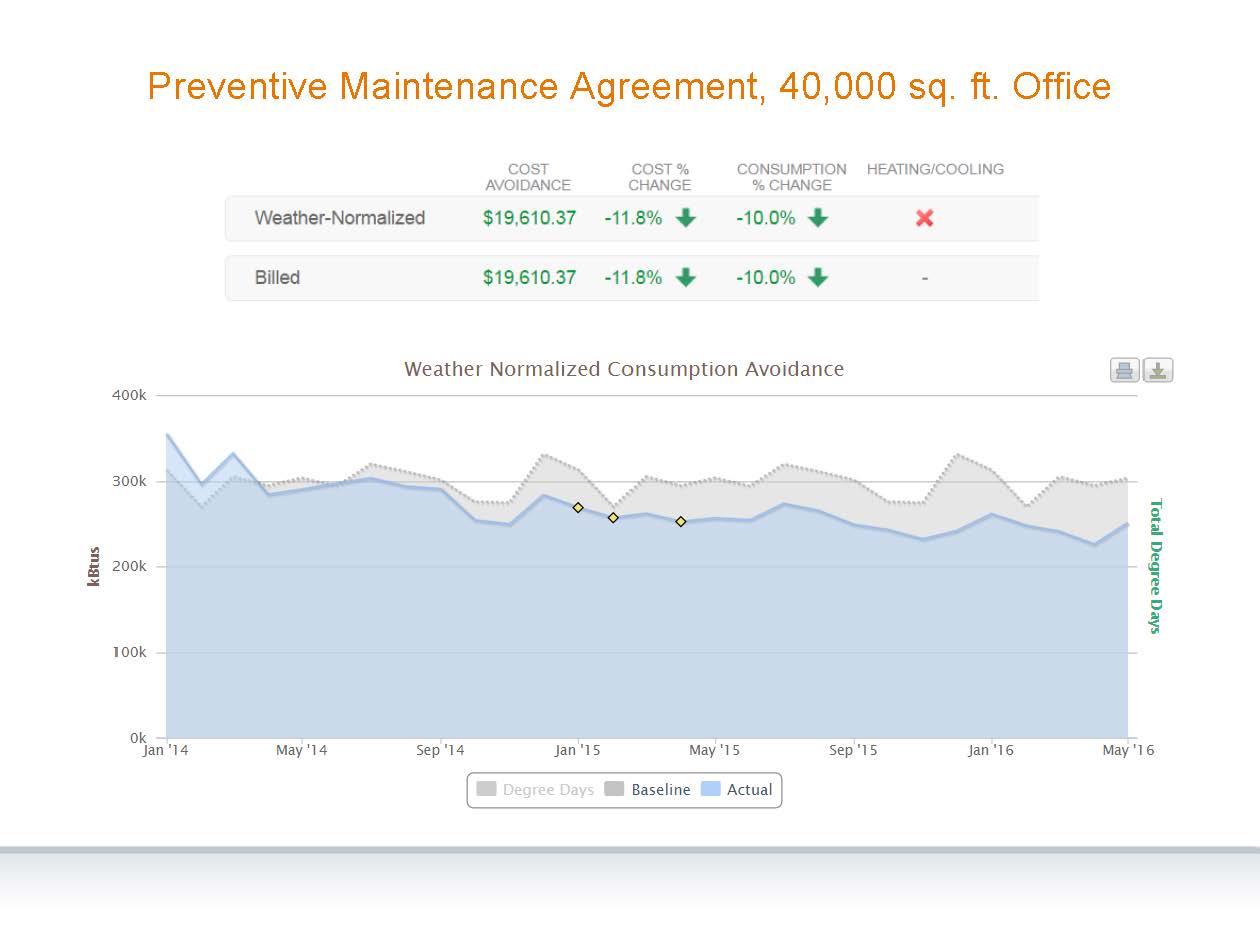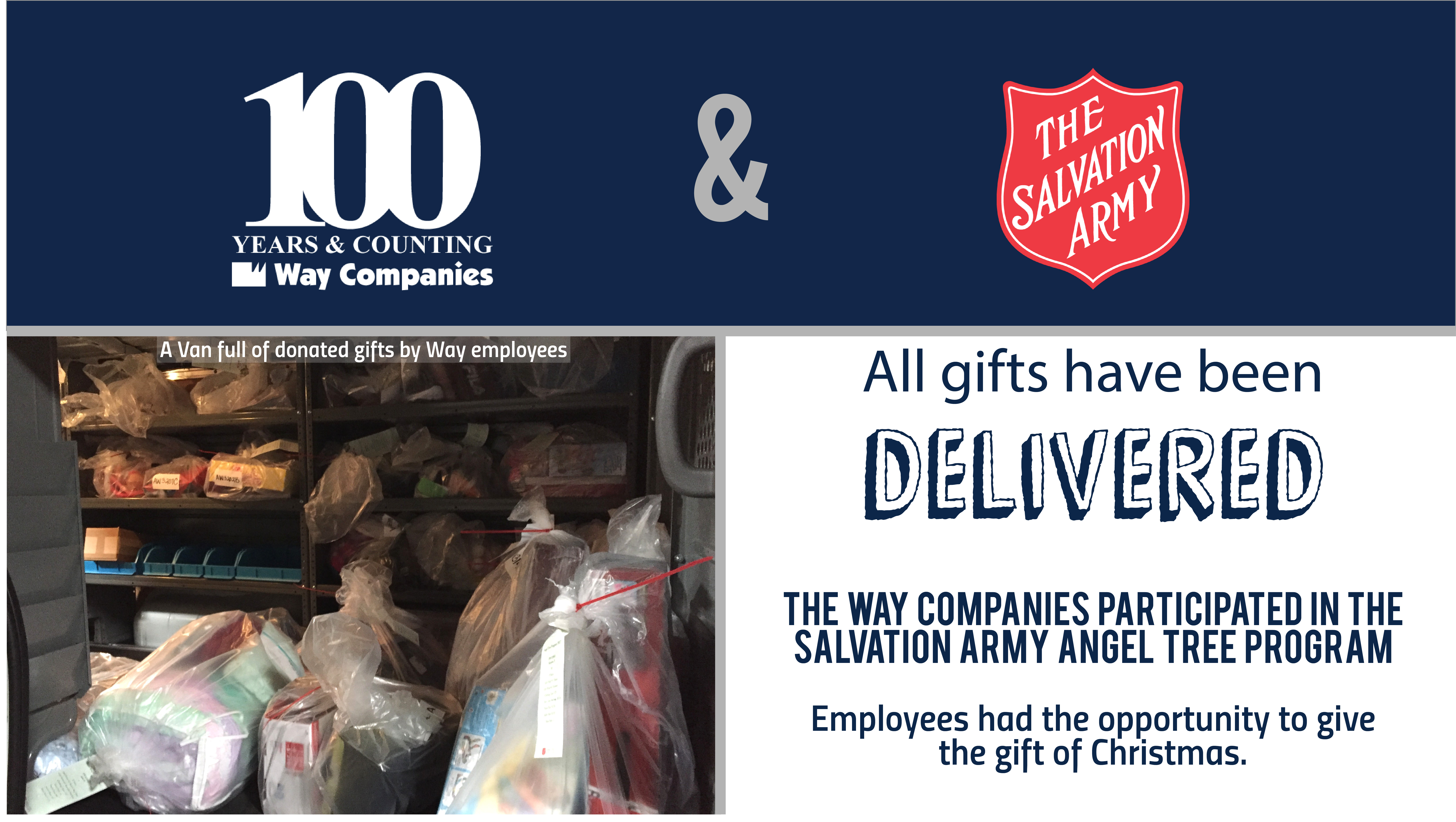 Way Gives
Each year, The Way Companies participates in the Salvation Army's Angel Tree program. Since 1889, The Salvation Army has provided Christmas assistance for disadvantaged children and seniors in our community. Last week, Way employees once again gave the gift of Christmas to the children enrolled Salvation Army's Angel Tree Program. A Way company van was filled with donated gifts from employees and was successfully delivered to the local Salvation Army. As a company in its 99th year in operation, we know how important it is to give back to the community, especially one that has given us so much. From all of us at Way, we wish everyone happy holidays!
Way Fish Day Thursday, September 28th, 2017
The Way companies had the honor of hosting "Way Fish Day" at Texas Children's Hospital – West Campus. Members from the Way Team were given the opportunity to brighten children's mornings.  The Texas Children's Hospital treats many kids whom are unable to leave the facilities during treatment, so the Way team brought the FUN to them. With the help from our friends over at KidFish, Way provided a stocked fish tank for the kids to have an opportunity to fish! Kids were also able to take part in the other fun-filled activities we had available such as our fish painting and coloring stations.
Throughout the day, a contagious smile was seen across faces. The pure joy of helping the children overshadow their daily struggles with happiness was fulfilling to all. As Way approaches its centennial anniversary, we would like to highlight the importance of giving back to the community that grew with us. We would like to give a special thanks to the children & staff at Texas Children's Hospital for giving us the opportunity to give back, and to KidFish for helping make "Way Fish Day" possible.
Way to go team!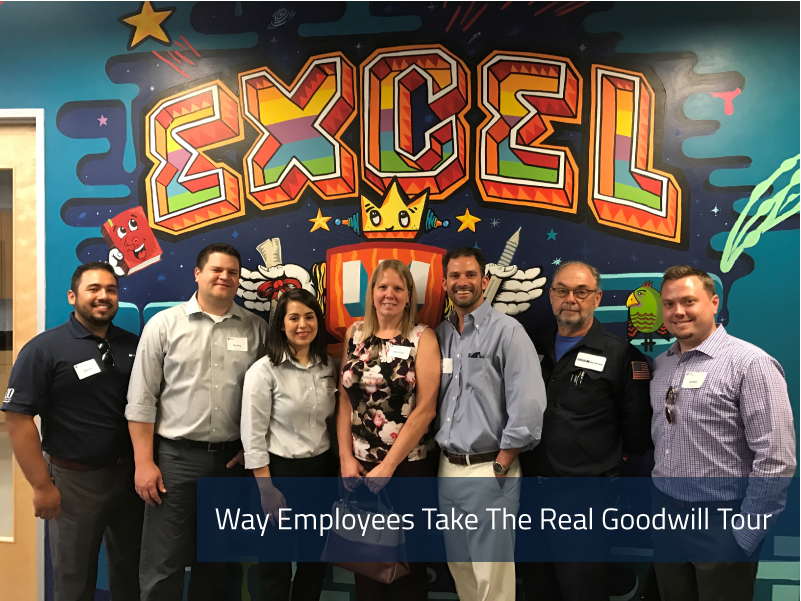 Strengthening our Workforce!
The Goodwill of Central Texas cordially invited colleagues from The Way Companies to "The Real Goodwill Tour" which was located at the Goodwill Community Center (GCC). "The Real Goodwill Tour" gives individuals and companies like ours an exclusive behind-the-scenes glance at the facilities. A few members of The Way Team were educated on all the wonderful operations, services and missions Goodwill provides, including education and job training services. Community members have access to education programs that provide GED and HVAC-related courses! Goodwill funds these initiatives through proprietary monies gained by donations, recycling, staffing, and the resale of donated goods.
The Way Companies plans on partnering with Goodwill's HVAC Career training programs this upcoming fall to teach students about the HVAC industry, The Way Companies, and to recruit new team members through Goodwill's job fairs and other employer engagement opportunities. As a partnership, The Way Companies and Goodwill plan to educate our clients and strengthen the workforce. The Way Companies believe that collaborating will increase our positive impact on the community and provide trained employees through the Goodwill Career & Technical Academy. This all aligns with Goodwill's mission, which is to Generate Lifelong Connections to WORK.
According to their website, the Goodwill of Central Texas is a private, non-profit, 501(c)3 organization established in Austin, Texas in 1958 and has become a multi-dimensional non-profit deeply entwined with business and job growth, the environment, and the overall spirit of Central Texas. Learn directly about The Real Goodwill Tour at their website HERE.
Education Outreach Monday, May 15th, 2017 The Way Companies' Education Outreach
On April 18, 2017, The Way Companies had the honor of partnering with students and instructors at the Texas State Technical College's newest campus in Fort Bend County . TSTC's HVAC program gives students access to industry-standard labs on high-efficiency commercial and residential heating and air conditioning equipment, heat pumps, commercial refrigeration equipment and a 200-ton chilled water system. With breakfast tacos in tote, Trey Calvery, Vice President of Technical Sales, and Jeffrey Lovejoy, Director of Operations, delivered a presentation to over 40 students highlighting tips, trends and real-life experience associated with the HVAC industry as well as an introduction to The Way Companies. Way plans to partner with TSTC to hire quality new graduates and to stay up-to-date with the latest training needs & developments our industry demands.
On Saturday, April 29 The Way Cos. Family and Community Committee did a magnificent job organizing a family fun day and carnival!
The company-wide Crawfish Carnival brought colleagues together for fun experiences as part of staff motivation and also to celebrate the company's 100th anniversary. There was an abundance of food and drink. Apart from the delicious spiced crawfish, the menu included hamburgers, hot dogs, with the typical sausage and corn side dishes. The employee's children sprang in bouncy- houses, slid down slides and played corn hole and washers games. They also enjoyed flavored snow cones and raffle games!
Thank you to everyone involved in planning and everyone who came out to participate in such an entertaining, successful day.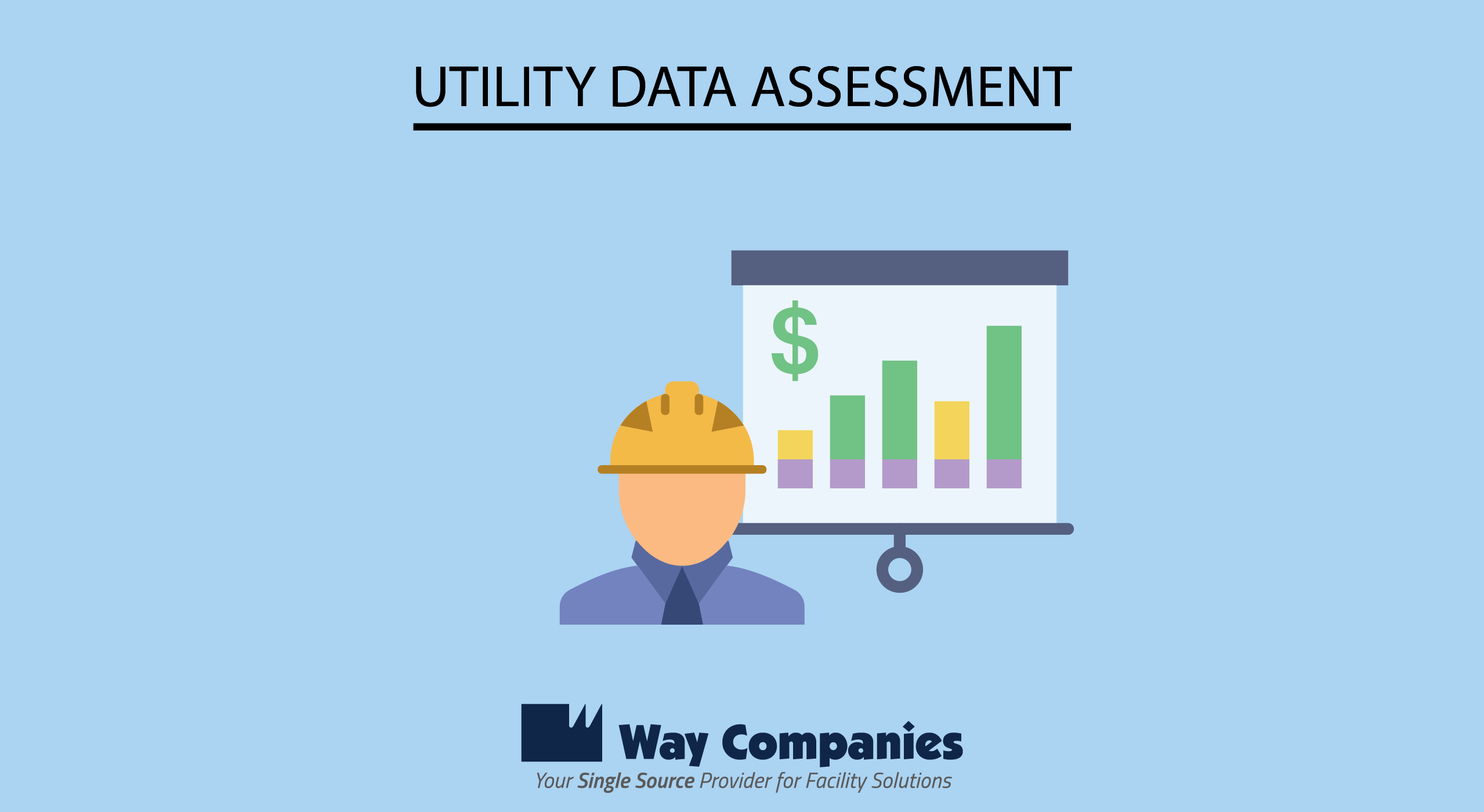 Way's Energy Analysts can uncover savings
The Utility Data Assessment (UDA) is part of the wide array of services The Way Companies provides free-of-charge. The Way Companies' UDA is performed by an Energy Analyst and it reveals the trends of a building's utility usage and it also typically uncover anomalies. Energy Analysts meticulously scrutinize a facilities utility bills and compile easy-to-read reports for our customers. The Way Companies have been uncovering savings for customers in this manner for many years. Recently, one of Way's Energy Analyst was able to notify a non-profit customer about an anomaly in their utility billing.  They were being charged a sales tax on their electricity usage. In Texas, non-profit entities are exempt from the sales tax. This meant that the customer was paying over two-thousand dollars more in taxes a year. As a result of Way's Energy Analysts, the non-profit was able to obtain a refund from the utility company. The Way Companies have a proven track record of finding energy savings.  Let Way help you and let our Energy Analyst review your bills.
HOUSTON – Austin County, located just west of Houston, and not to be confused with the city of Austin, unanimously voted to move forward with an infrastructure renewal program performed by The Way Companies. The program co-authored by the Commissioners Court and Way, will capture thirty-five percent of the owning and operating budget to reinvest into their facilities.
Comfort issues were at the top of the list for Judge Lapham, County Commissioners and staff. Studies have shown a clear link between comfort and productivity, and this project announcement means that county employees will find much needed relief. At the completion of the program, staff will be able to remove all the supplemental heaters and fans, as they will no longer be necessary.
County officials decided that this was the best recourse, as they have been dealing with aging infrastructure, most of which—around sixty percent—was obsolete. The antiquated air conditioning, lighting and controls were causing various issues, but the most pressing was the higher than average operational costs. Austin County was expensing many resources on "Band-Aid" fixes that were not addressing the root of the problem.
The Way Companies, an established facility service company based in Houston, will retrofit and commission the county's buildings. Way Cos. will tackle the air conditioning, countywide building automation controls, lighting, and manage the new assets as part of the program. The company projects an annual energy and operations savings of over $100K.
"We really need these upgrades and I believe we would've chosen to partner with Way due to the sheer necessity," said Judge Tim Lapham about the collaboration. "The energy and repair savings are extra gravy."
The program began in December. The countywide renewal project will also remain entirely self-funded and save Austin County over $1.1 million over the life of the program.
###
The condenser coil completes the cooling cycle in an air-conditioning system. Fans blow over the coils, which contain refrigerant, and release excess heat into the atmosphere. These coils are typically positioned outside of a facility and are exposed to the elements. If the coils are dirty, then the unit must work harder to remove heat thus causing your unit to expend more energy. The resulting increase in energy means a higher than usual utility bill. As time wears on, the grime and dirt builds and that shortens the life of your assets. Studies have proven that a regularly cleaned condenser coils will save your facility money and extend the useful life of your assets.
Contact us to learn more about condenser coil maintenance or to schedule an appointment.
ORANGE, Texas— Years of financial constraints have led Orange County to issues with its HVAC systems and facilities. As a result, the County decided to collaborate with The Way Companies, a Vidor-based facility solutions service provider, to upgrade the County's aging infrastructure.
Previously, County staff encountered issues with odor, humidity, and leaks. The core issues are typical of what many other counties across the Lone Star State are confronting. Aging infrastructure and deferred maintenance, particularly in rural counties, are a growing problem across the nation. Orange County Commissioners were committed to finding a solution that would not break the County budget or raise taxes.
"We needed a program that would be proactive and not reactive. This will give us better control of our future budgets and operation of the facilities," said Precinct Two Commissioner Barry Burton.
The Way Companies proposed energy conserving measures, or ECMs, in 39 buildings throughout the County. A partial list of the improvements included HVAC replacements and retrofits; new direct digital controls (DDCs), interior and exterior lighting retrofits and retro commissioning of HVAC systems. Way Companies will also perform facility improvement measures that will provide electrical, façade and structural repairs. The project will also encompass the replacement of two generators at the jail that were not originally designed to handle the full load of the jail. Several other generators throughout the county will receive upgrades as well. The program required no up-front capital and will result in projected annual operational savings of $383 thousand and approximately $22 thousand in annual demand response incentives.
County Judge Stephen Brint Carlton was eager to see the issues plaguing Orange fixed while simultaneously lowering the utility bills. "We chose the Way Companies to help us accomplish this for several reasons. They are local, responsive, and addressed the County's needs in a cost-effective way," said Judge Carlton about the project. "I found Way's willingness to customize the solution in order to meet our needs very refreshing and easy to work with," he said.
Orange County will end up reducing 1,200 tons in annual carbon reduction, or equivalent to removing the CO2 emissions from 224 cars or burning over 1.2 million pounds of coal.
The project is expected to be completed in mid-2017.
Read the article on: